If you've been following along, you know that I had vacillated a bit between Christmas decor themes. I was leaning toward rustic anyway, but when I found two spools of this beautiful gingham wired ribbon,
this adorable willow tree,
this cutie-patootie garland,
and these nostalgic glasses
at the vintage sale here in town, my mind was made up! I've done all of my decorating with rustic and/or natural elements, with a few glittery things thrown in for sparkle. Today I want to show you the tablescape I put together so I could play along with the linky party over at The Lettered Cottage.
Keeping things casual and rustic, I used a mix up of dishes for the place settings.
I got the Christmasy plates at the vintage sale as well, but they only had 4 dinner size plates. I got a little creative by mixing them with sturdy, rustic looking dishes from Ikea. But let's start at the bottom and work up. Red, woven straw mats I got on clearance one year from Walmart, I think. Next up, chargers with natural elements around the rim. These are also from Walmart (hey, it's the only place to shop in this town!), and I usually use them for Thanksgiving, but I thought they worked nicely with this theme. Then we have the plates and bowls from Ikea and the vintage sale. The goblets are a clearance item from Walmart and the glasses, as mentioned before, are from the vintage sale. The napkin rings match the chargers, from Walmart, and the napkins are cut from the same piece of fabric that the runner is from. The fabric came from a freebie pile at church. The big lantern is from Walmart a few seasons ago, the small lanterns are from Ikea. The big lantern is sitting on a white cake pedestal from Marshalls placed inside a clearance wreath from Walmart from last season. My kids gathered the pinecones for me on the walk home from school.
I used some of the ribbon from the vintage sale on the chain of my chandelier (a $7 fixture from the ReStore), and also hung from it some big mercury glass ornaments I've been collecting from Hobby Lobby whenever they are on sale.
It's hard to capture the feeling in a photo, but this is such a warm, inviting, cozy table setting! It really makes me want to settle in and enjoy a steaming plate of ham and scalloped potatoes with a hot, buttery roll on the side. Some sparkling cider would be perfect to wash it down. Some warm apple pie would finish it off nicely. Or maybe a big mug of hot cocoa and a slice of pumpkin pie.
Maybe it's a bad thing when your decorating makes you want to eat...
Not if it's your table, right?
More rustic decor to come.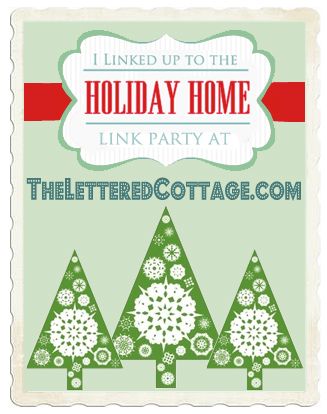 Linking up to
Funky Junk's SNS